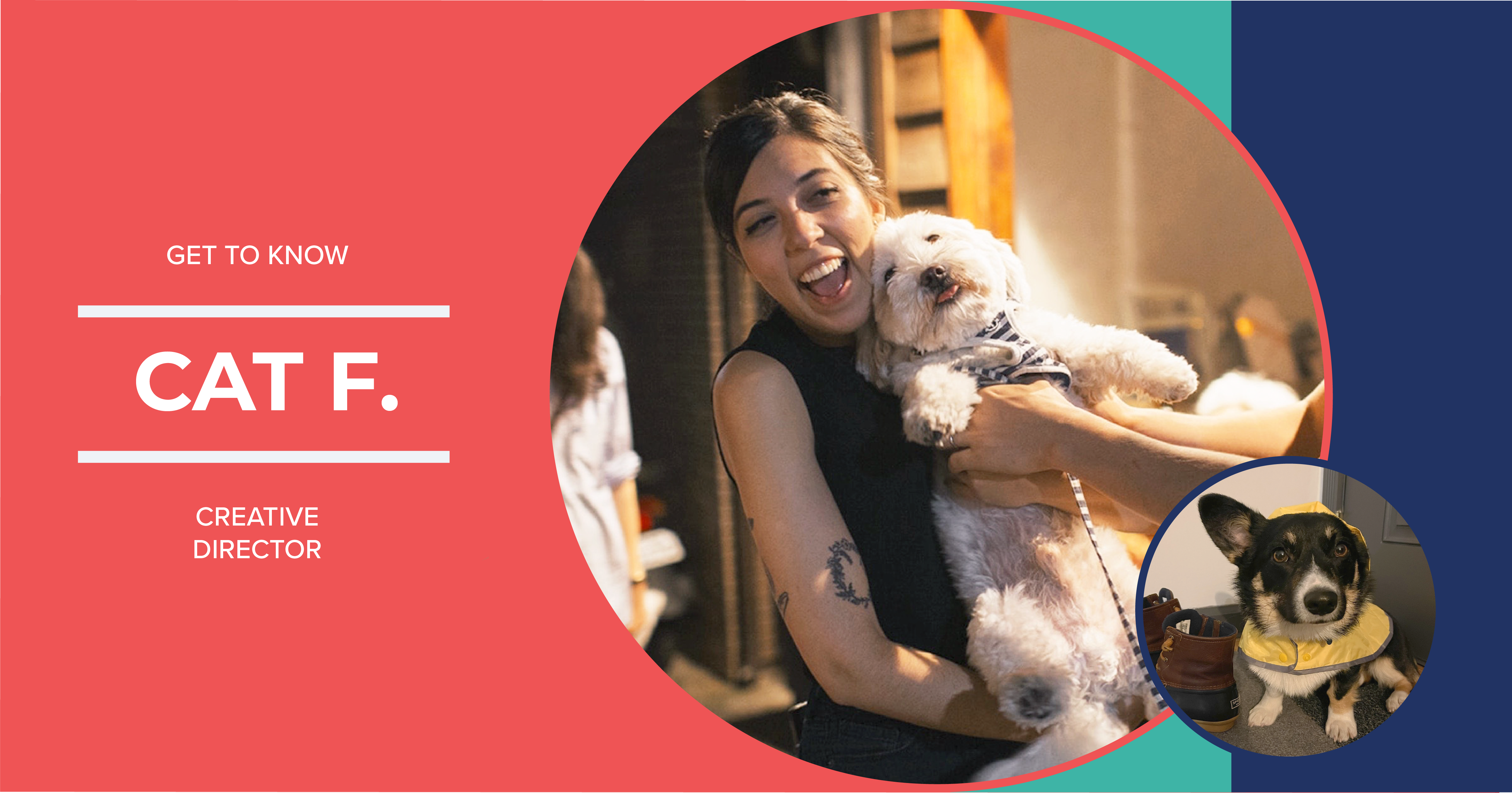 Meet Cat Ferreira, the Creative Director at FM Expressions - she dreams of becoming a master pastry chef one day, but she'll have to schedule time in her favorite productivity tool, Outlook calendar, to make it a reality. Before work, Cat always finds the time for a full-on snuggle session with her dog, Molly.
Q: What do you do at FM Expressions?
A: I lead the brilliant Creative team, amongst many, many other things. I do my best to make everyone's life a wee bit easier here.
Q: What do people come to you for help with?
A: All kinds of things! Usually art, product, or order-related questions. I'll also be asked to help define and document processes. Occasionally, I'll be asked for an opinion on a dad-joke.
Q:

What energizes you at work?
A: My team, the work they create, and the opportunities I get to help develop their talent. Truly - it's incredible to see what they come up with and how they solve the challenges in front of them. Each one of them brings a different perspective and talent to our team - I learn something new from them all the time. Couldn't be prouder of the work they do.
Q:

How long have you been working here?
A:
My 10 year anniversary is coming up!
Q:

What productivity tools do you use?
A:
I'd be nothing without my Outlook Calendar. NOTHING. I also really love Miro.
Q:

What's your favorite task at work?

A:
This may sound indulgent, but I love research. Ok, maybe that sounds boring, but this is the kind of research where we look at upcoming trends in design. What's next year's color? What funny phrase is on the rise? This helps us craft new collections for our Switch design templates.
Q:

What's your go-to karaoke song?

A:

So, I'm really into karaoke. Like, pre-Covid, my best friend, Sarah, and I would literally build karaoke playlists that would fill up the exact time we would rent one of those karaoke rooms. My favorite solo karaoke song? Queen's Don't Stop Me Now. Guaranteed to be a hit, no matter what kind of karaoke crowd you're facing. And remember kids, always read the room before choosing your karaoke song. Always.
Q: What's something you saw recently that made you smile?
A: My dog, Molly. Seriously, she's the cutest thing in the world. Go ahead and google, Tricolor Corgi. Instant smile.
Q: What's one totally irrational fear that you have?
A: The sound of buzzing insects. If I hear anything, I'm OUT.