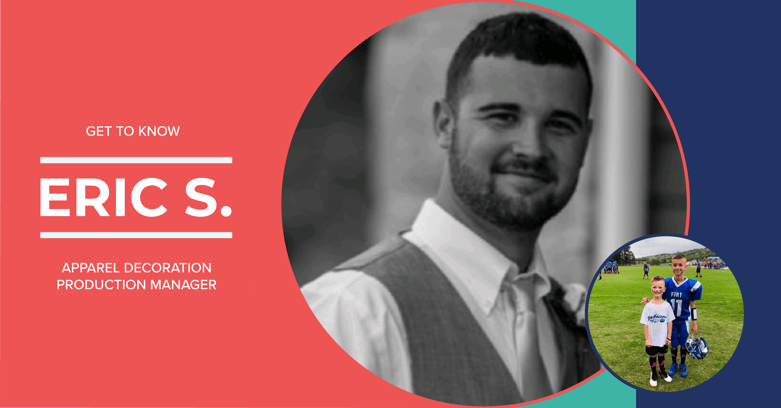 Meet Eric Shifflett, Production Manager for Apparel Decoration for FM Expressions at our Gordonsville heat transfer production facility! Eric is a coach in every sense of the word, building up his team in the workplace and coaching his kids outside of it. When he takes off his coach whistle, he can still be found in the stands rooting for the Yankees and Steelers. ⚾🏈
Q: What do you do at FM Expressions?
A: I'm the Production Manager for Apparel Decoration at the Virginia facility.
Q: What's the biggest misconception people have about your position?
A: The biggest misconception I have seen in this role is the idea that I will have all of the answers on the spot. In reality, it usually takes research through data to find the answer.

Q: What energizes you at work?
A: Building others up, and watching the team grow as a whole. Seeing a new hire or a seasoned employee get engaged in the business and strive to win.

Q: What's something you find challenging at work?
A: Not getting personally involved in every issue. Letting the team fix issues.

Q: What's your favorite task at work?
A: My favorite everyday task is speaking to each team member personally. I enjoy hearing about their weekends and what their passions are outside of the work environment.

Q:

How do you prefer to start and end your day?


A:

I prefer to start by greeting the team members one on one and ending the day by thanking everyone for the hard work they put in that day.



Q: What's your favorite sport to watch and which team do you root for?


A:

I love watching baseball and football. I am a huge Yankees fan in baseball and Steelers for football!
Q:

If you could choose a superpower, what would it be?


A:

Super Soldier.



Q:

What's your favorite thing to do on the weekends?


A:

Hunt, fish, and coach sports.



Q:

What's your favorite TV show—the one you're always watching on repeat?


A:

Yellowstone!