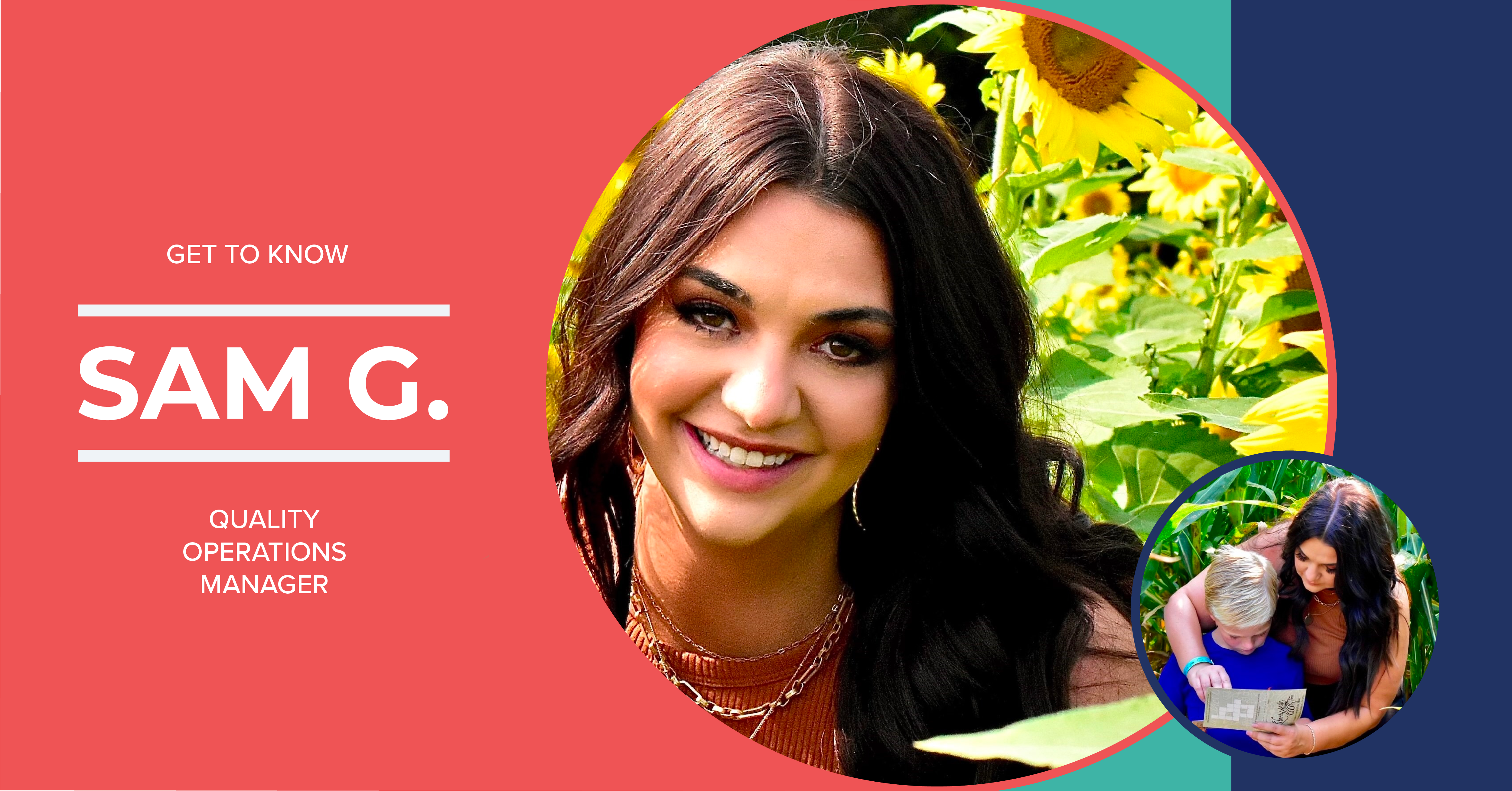 Meet Samantha Good, our Quality Operations Manager. She is FM's top detective! When a quality issue arises, she figures out why. You can make her smile with puppy pictures, but her favorite thing to do is to spend time with her adventurous 8-year old son. 🌻✨
Q: What do you do at FM Expressions?
A: Quality Operations Manager. I lead our amazing quality team to ensure the best possible product makes it to our customers. In addition, I collaborate with all of our internal teams and processes to lead conversations and actions around quality.
Q: What's one professional skill you're currently working on?
A: Prioritizing my work. I tend to want to work on the things that excite me the most, even if it should not be my number one priority.

Q: What's the biggest misconception people have about your position?
A: That I am responsible for quality. That is a true statement, but the quality of the product only improves when every employee in every department understands the impact they have on the end product. From the time the customer places their order, to the time we ship it, we all play a HUGE role in making sure the end product meets our customers' expectations.

Q: What energizes you at work?
A: Learning!! My team members, colleagues, and mentors have all played a role in molding me in my career. Each day I walk in and learn something new from all the amazing people I get to work with on a daily basis.

Q: What's your favorite task at work?
A: Root Cause Analysis! I love figuring out why an issue is happening. Some issues are much easier to solve than others, but each is as exciting as the next. At times it can be frustrating not being able to figure out why an issue is occurring, but once you find that missing piece of the puzzle, and it all comes together, that's when it all pays off!

Q:

How do you prefer to start and end your day?


A:

I start and end each day with the biggest hug from my son. He is 8-years-old currently and I am dreading the day hugging his mom is no longer "cool".



Q: What's your go-to karaoke song?


A:

"I'm Gonna Be (500 Miles)" - The Proclaimers. Nothing gets a crowd hype like hearing that "Da Da Da Dun Diddle Un Diddle Un Diddle Uh Da Da"


Q:

What's one thing most people don't know about you?


A:

That I am an introvert. I love talking with people, but at the end of a long day, I need to turn that side of myself off to recharge. I am great at flipping it on and off but it can be very draining at times.



Q:

If you could choose a superpower, what would it be?


A:

Teleportation! I do not like traveling very much. So teleportation seems like SUCH a time saver. I am all about convenience.



Q:

What's your favorite TV show—the one you're always watching on repeat?


A:

The Office. Between Pam and Jim's love story, to the Michael Scott of it all, I am OBSESSED and could talk about it for hours.