Throughout the month of March and Women's History Month –
FM Expressions is highlighting our very own women leaders in screen printing!
Join us as we celebrate and recognize these outstanding women leaders making a difference daily at FM and showing us authentic leadership, responsibility, and community in our industry.
Meet Courtney Seese. One of FM's Key Account Managers.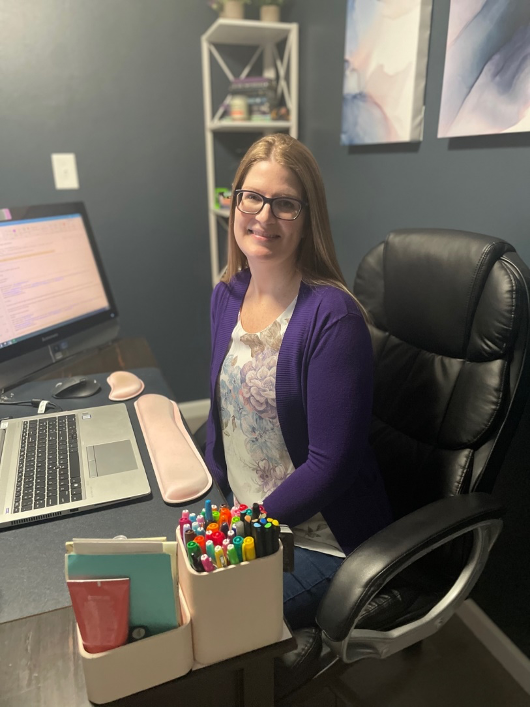 Courtney has been with FM for 16 years! She first started out in order entry, entering orders manually for customers back in the day and now she's the Key Account Manager for our largest enterprise customers. She's worn many hats in the last 16 years and has witnessed the evolution and growth of FM throughout her career.
In 2015, she took over managing the relationship with a major league sports licensee – strictly with heat transfers. By 2017 she led the product development team to use water-based products. Her work unlocked opportunities to service other licensees.
When Courtney isn't managing our largest enterprise customers and supporting FM's Commercial Sales efforts, she is moonlighting as an Uber driver for her two beautiful and active daughters, Mikayla (7) and Madison (14). Courtney describes her daughters as kind, sweet, athletic, musically talented, and adventurous. Together they love to spend quality time and have mother-daughter shopping days. Courtney got engaged Christmas before last to the love of her life, Jake, who she describes as the opposite of her and the perfect match for her and her daughters. Together, they love to spend quality time as a family and love their Miniature Aussiedoodle named Trigger.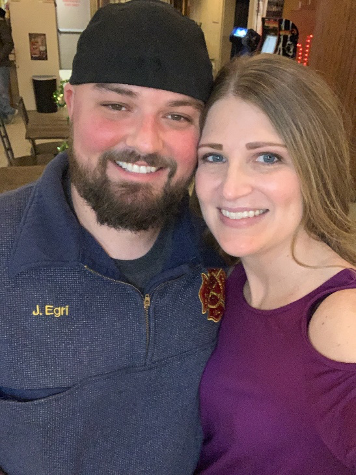 Jake & Courtney
What does women's history mean to you?
Recognizing the accomplishments of women in all areas: science, government, sports, literature, and religion. It's understanding the impact that women have had and how their hard work and achievements make it possible for young girls and women today to have new and exciting opportunities.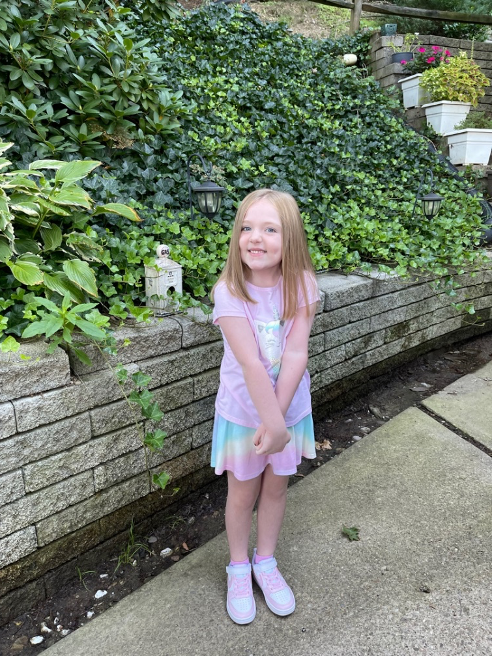 Mikayla, Courtney's 7-year-old daughter loves shopping with her mom.
How can we better support women in this industry?
Encourage them to feel empowered to do their jobs, trusted to make decisions, and provide coaching when they need support. With the right team in your corner, supporting you and encouraging you to be your best, I don't think there is anything that you can't achieve!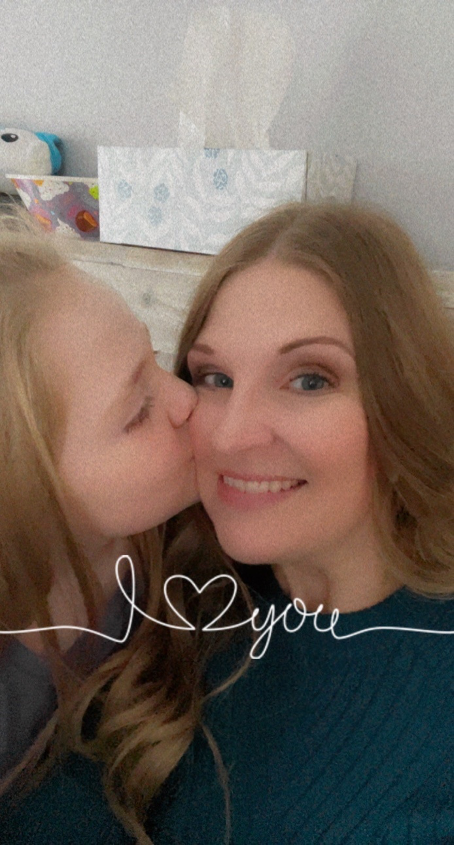 Mikayla & Courtney
Who is a woman that inspired you at FM Expressions and why?
I bet you are going to hear her name a lot this month 😊 Carrie Terwilliger is by far one of the most inspiring people I know. We've worked together for 15 years. She is brilliant, a powerhouse in our company, and one of those people that leans in and gets sh** done! What inspires me the most about Carrie though isn't just her knowledge of the print industry, and the incredible things she's done at FM, it's the fact that when you walk the production floor with her, she knows the name of every single employee. She remembers what you told her about your family the last time you spoke to her. It is important to her that we are all thriving and that shows in the interactions she has with all of us. She defines servant leadership. She and her family live in NJ, yet she spends every other week in VA leading that team. Even with all her travel she still makes spending time with her family a priority, and helps others as a member of the Board of Directors for a non-profit called Families4Families, oh and she raises chickens, too! I love her heart and her desire to help and serve others. She's an incredible woman, a true role model, and someone that I am blessed to call a Friend.
**check out the Familes4Familes website - www.families4families.com – I wouldn't do this organization justice trying to describe it in my own words**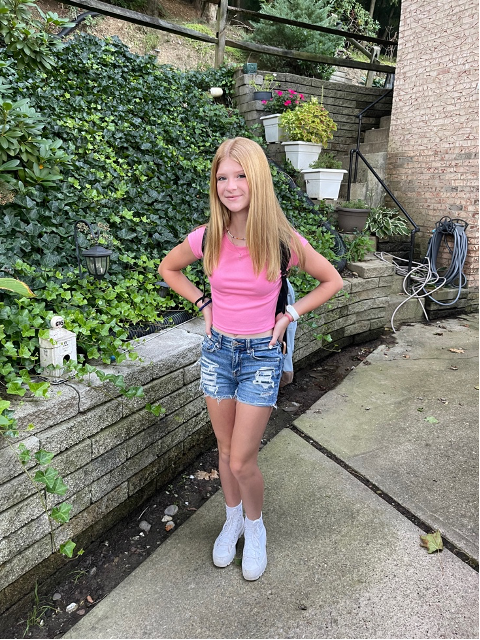 Madison, Courtney's 14-year-old daughter is super outgoing and loves to stay active and play volleyball.
Tell me your favorite quote.
"Courage is fear that has said its prayers and decided to go forward anyway." – Joyce Meyer
"Do the best you can until you know better. Then when you know better, do better." – Maya Angelou
Who is your favorite female artist?
I love to read. Some of my favorite female authors are Maya Angelou, Kristin Hannah, Colleen Hoover, and Joyce Meyer.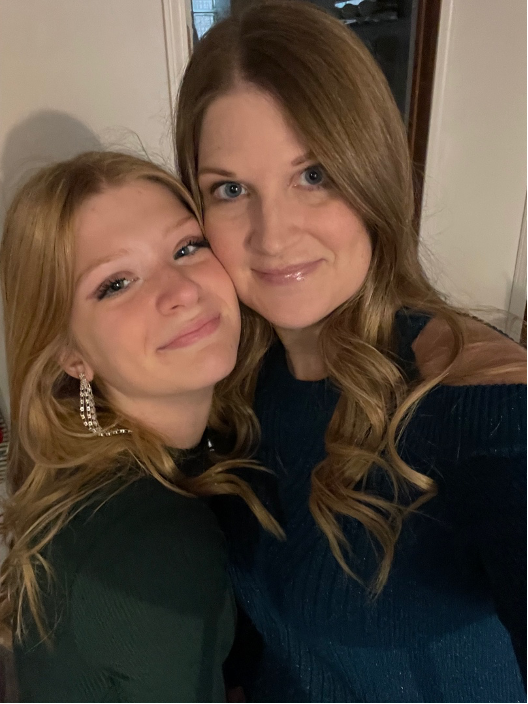 Madison & Courtney
Who is your favorite female historical figure?
Katherine Johnson. Her story is inspiring. She was brilliant with numbers. Was one of three African American students (and the only woman!) to integrate into West Virginia's graduate school, West Virginia State. She earned a position at Langley and then at NASA with the Space Task Group. She was the first woman to receive credit as an author of a research report for the Flight Research Division. Her calculations were instrumental in the success of the first human spaceflight and the first orbital flight. She was a mother, a wife, and a true pioneer.
How can we continue supporting other women?
I think it's important for us all to have the proper support in our lives. Friends, family, teachers, co-workers, people that you can talk to about your joys and struggles. Your goals and ambitions. And we should all feel some sense of responsibility for building each other up. Encouraging each other to reach for and achieve our dreams. It's also important that we are educating the next generation – they should know about all the incredible women that came before them and the rights and opportunities that are now available because of those trailblazers.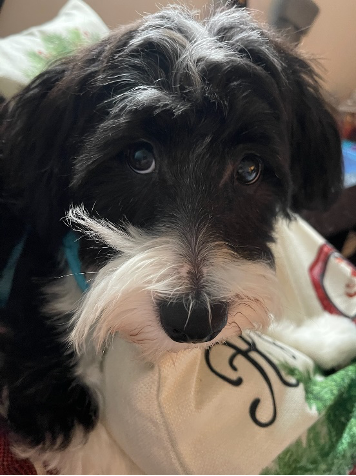 Trigger a.k.a "Little Man"